There I was, just after Charles had finished the 7am news, into ELO Shine A Little Love, and I was in the Rutland Radio office, when I very strange vibration came through the floor. I thought it was a train, but it seemed somehow different to normal. Being based in Oakham next to the level crossing, we're quite used to heavy goods trains shaking the foundations, but as I said this seemed out of the ordinary. Then the calls started, from Oakham, Uppingham, Cottesmore, North Luffenham, Stamford, and as far out as Deeping St James. Most people thought it was an earth tremor, although it did sound and feel different to the average earthquake we've had around here. Paul from Oakham thought it might be a sonic boom, like he heard 35 years ago, several callers in Uppingham thought it might be an earth mover on Branston Road, and some people thought it was a lorry near their house. And through the morning it became clear. At 7 minutes past 7 this morning, a quake measuring 3.2 on the Richter Scale, its epicentre 1 mile NNW of Ashwell.
Richard from Rutland on twitter posted this image, which I think all these hours afterwards, and finding it was only fairly minor, we can take in good humour now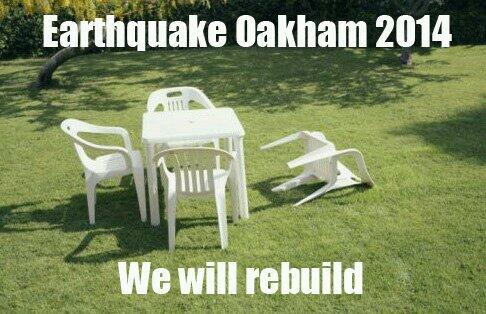 These were some of the comments we received as we broke the news just after 7 o'clock this morning, our Facebook and Twitter accounts went into overdrive, as did the phone lines, much the same as when we get the snow
James Felt and saw the room shake then a massive bang just like a building had been destroyed by demolition and this was in Uppingham only 8 miles from oakham .... it was a great wake up call even though I'd been awake for about 10 minutes before it, I wonder when the next one will happen and if it will be stronger ?
Lorna Tremor hit us in Oakham, slight damage to garden!!! now found to be the epi centre of the quake!! This is Lorna's photo of the damage caused, slightly tongue in cheek!
Kate Thought it was low flying aircraft!! Went back to sleep!! Xx
Caroline We made the news on national TV
Lorraine Felt it in Gretton, windows rattled well!
Jill My radiator rattled and woke me !
Emma We felt it in collyweston thought was bin man. All I can say is how can my 10 year old sleep though it lol. Hope everyone ok x
Clive Nothing in Wakerley. .. but hey, there's nothing in Wakerley anyway
Florbela I felt it in Corby.
Chris Soz my bad I fell out of bed. All is good im ok and unhurt.
Sean I thought my dad had broken wind
Alistair Yeh. It woke me up. All of the sheep and birds are busily talking about it in Uppingham.
Jill In Whissendine, The cat hid under the bed and my husband ran downstairs to see if he could see what it was, really thought we'd see some damage somewhere, didn't think it was an earthquake because the bang was so loud!
Sharon Woke up by rumbling noise and bed shaking only few seconds thought it was a heavy lorry in Stamford.
Brigitte Offically recorded by the British Geological Society , seems Oakham was the centre but felt as far away as Keswick & the south coast
Penny We felt it in Stretton thought it was a big truck on the A1
Julie Stevens In Stamford, there was a thud, then house swayed!
Dawn Certainly felt in Edith Weston this morning, a nice wake up call!
Carolyn Here in Preston, my house shook but it didn't wake my family up apart from my dog.
Carolynn Hi Rob I was sat quiet having my morning coffee in oakham and all of a sudden the house shook and it sounded like an explosion. It didn't take long before the whole family were up lol
Lynne We felt it in Stamford. It was a low rumble that sounded like someone moving furniture then the house moved a little. Lasted about 10 seconds.
Suzy Didn't notice a thing in uppingham! ... must have been half asleep still.
Julia It sounded like a huge wave coming up behind me. Then instead of washing over me, it rocked the foundations of the house.
Sarah I thought my boiler had blown up! Loud bang and the house shook. (Oakham)
Laura Didn't feel it in Easton On The Hill
Tracy woke me up !!
Kelly Our dog was howling I thought I was dreaming But ....... Definitely the noise and rumble was heard xxx
Deirdre A heavy thud and a rumble followed by the poor old kitchen door creaking. I've just come back from Los Angeles so perhaps it followed me!
Geoff Go to earthquakes.bgs.ac.uk for a real time seismology reading from the Charnwood station (our nearest) which clearly shows a 'blip' at about 7am this morning.
Andrew Didn't feel a thing
Sally I'm in Cottesmore . We had a long deep rumble and our wall hangings were rattling .
Ash A friend in Corby / gretton said they felt it too !!
Louise (Greetham) Heard a boom and the wardrobe doors squeaked a bit. Only lasted a few seconds.
Patrick we're on holiday at Barnsdale. Had just got up when felt the lodge shake and glass cabinet chink for a few seconds. A few after tremours too
Babs Hi rob, we are in oakham, at first i thought it was a train derailing
Mandy I thought something had crashed into our house ( Ashwell) still it got everyone up early for a change !
Tim Felt the earth move this morning. Thought one of my children had fallen out of bed.
Carl sounded like a loud bang and house shook here in oakham...missus slept through it though lol
Barry Felt like a car had run into our house at Stocken.
Sherry Greetham moved a little, the kids slept through as did the hubby. (Who says he suffers from insomnia?!)
Sean Rob just had a friend of mine from Cambridge just felt something was in there car and felt it flex
Pamela in Cottesmore The girls in the spar shop were watching the bottles rattling !
David didn't feel a thing in Edith Weston
A Rumble in the Rutland come to Rutland for the experience of your life! #
We've not felt a rumble like that since waiting for main courses @redindia #uppingham
I know I wasnt dreaming because we've had news/updates from our local radio @rutland_radio
gone up 3.2 now One in iran and Solomen islands at same time spooky
Tim Oakham Thought one of my children had fallen down the stairs. Not as strong as the one in Oakham in 2007/08 though.

Thought at first it was our neighbours putting their dustbin out!

We felt it here in Oakham... It sounded like a huge freight lorry going down the road, but the whole house shook!
Pat On holiday at Barnsdale Hotel. Felt the lodge shake for couple of seconds. #experienceRutland
Family Tradewell So was that a small #earthquake just now? So much for Mrs T's lie-in! #tremor #rutland
Fiona Earthquake report coming from Braunston. We experienced the moving and noise (if it was an earthquake).
Marty Felt the rumble in Stamford too - thought it was something at the RAF base taking off.