Along with Stonehenge, Durham Cathedral, Tenby and Skara Brae, Bill Bryson has put Rutland Water in his top five Favourite Heritage Attractions, in Countryfile magazine. He says 'The middle of England is full of delightful attractions that few outsiders visit, but Rutland Water is my favourite because it is lovely, transfixing and a joy to walk around. It is so natural-looking that it can come as a surprise to realise that it was built only in the 1970s as a reservoir. It would be hard to think of a more successful large-scale enhancement to the landscape anywhere.' Wonderful words to read about our premier county attraction. You can only vote until the end of tonight if you'd like to help get it to to the top of the five - click here for details.
PANCAKES - we had savoury bacon and avocado pancakes last night, I needed to get one cooked ready for today's race at Stamford Junior School, for the first time challenging Lydia. If you're on social media, have a look at the video of us racing down the lower field. The four Year 6 classes went head to head too, it was Mrs Brittain, Mr Slack, Miss Reading and Miss Rice-Oxley's classes. Who won? Listen to Lydia after 5.30pm tonight, and with me tomorrow morning after 7. I presume, although I never hear in advance these days, that the annual Caldecott race was staged this morning, also Tony the Olive man from Uppingham was in the market place making pancakes and raising money for Vista, the sight loss charity.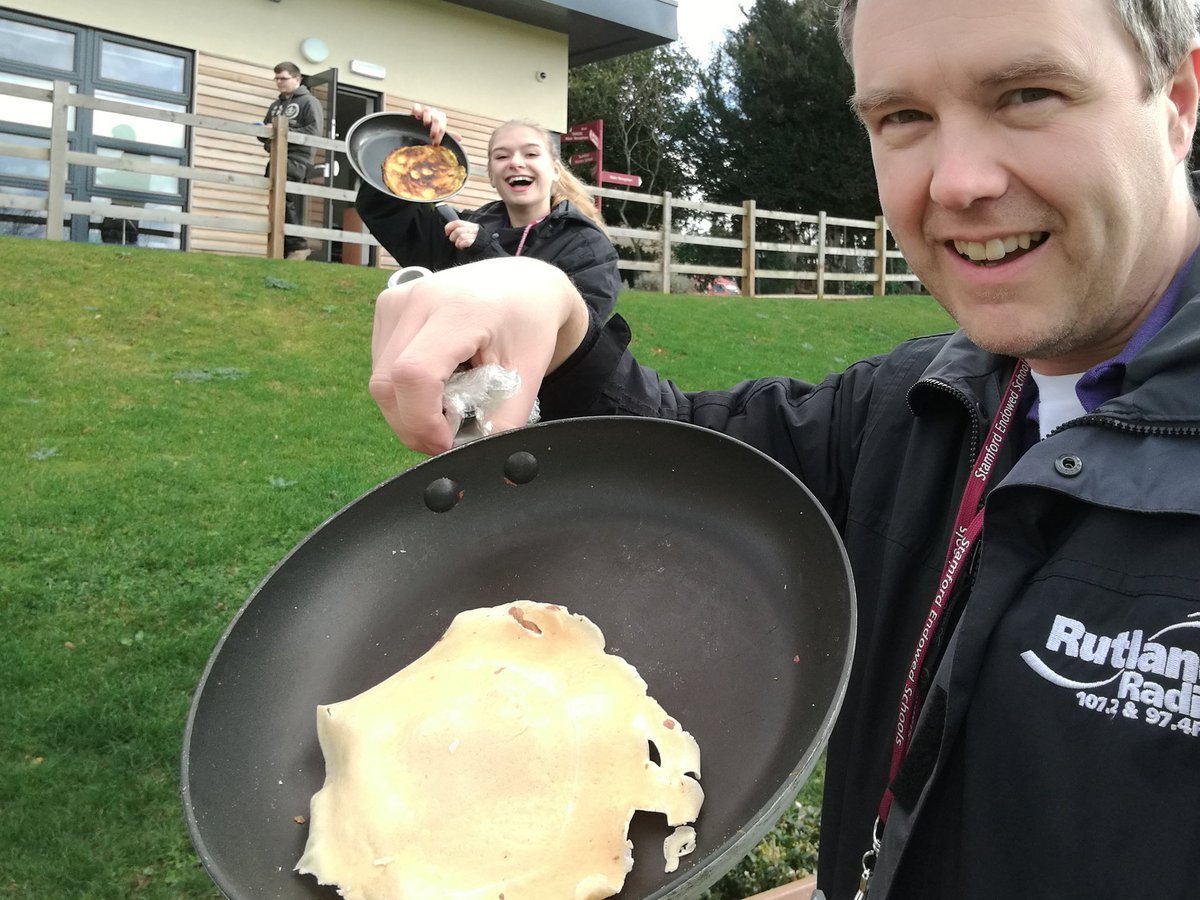 P P P PANCAKE DAY - I played this 90s memory this morning
RAF UNIFORMS - the national papers are reporting the RAF are forcing all women to wear trousers on parade in future, it's reported to make things equal for those including anyone under gender reassignment. We have some wonderful parades in Stamford, Oakham and at the bases, will everyone be in trousers in the future?
MYSTERY VOICE - we launched a new one this morning, worth £20. It continues with Lydia after 5pm
DOWN YOUR STREET - I'm in Market Overton tomorrow, and Harringworth the week after
WEEKEND EVENTS - The annual For Rutland Good & New Clothes Sale is this Friday and Saturday at Barnsdale Lodge, with items from Chanel, Mulberry, over a dozen wedding dresses and morning suits. You literally could get all your wedding clothing at the sale, as well as designer, lots of ladies and some men's and children's clothes. Some tickets are still available for the Friday night, which is advanced ticket only for £15 from Trish Ruddle on 01572 724400, the Saturday sale where everything is half price is £5 on the door.
Alternatives - there's still some tables available at their sale this Saturday at Bluecoats in Stamford. The charity which supports pregnant women and those with young families is based at the Hospital, just opposite the surgery.
Roger Begy Memorial Trust Ball - is this Saturday evening at Barnsdale Lodge - the Good & New Clothes Sale checks out that afternoon. Last I heard a few tickets were still available for one table - contact details are online.
RUTLAND CAKE COMPANY - I went last night to the launch of a newly built unit at Oakham Enterprise Park. Naomi Morgan was on Junior Masterchef, and after selling her cakes on the Farmer's Market in town, has always wanted to run a cafe. We had cake-related songs on the coffee break earlier.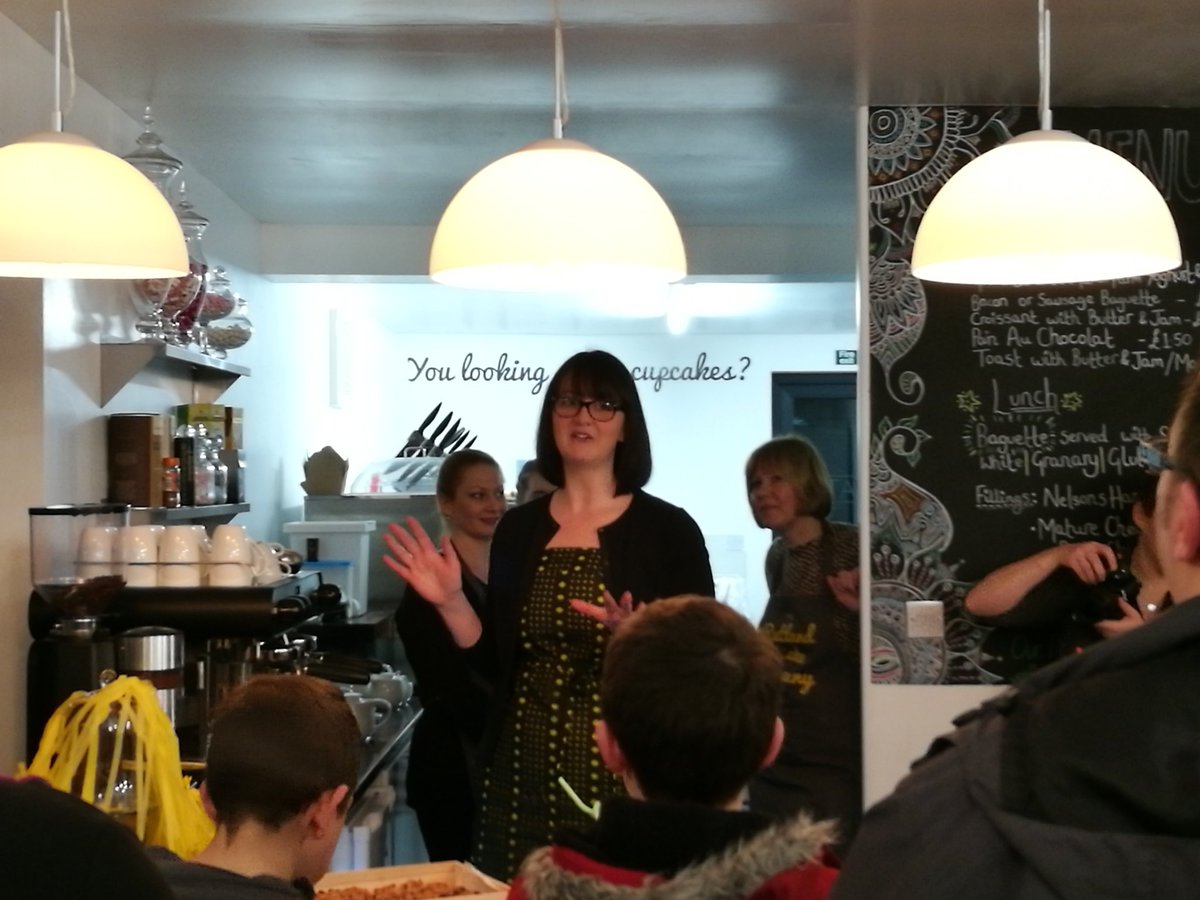 I also chatted to Vic who runs Rutland Roots - a county veg box scheme based in Langham, and found out there's a Rutland Dairy at Whissendine, which has been going for just a month. First dairy I've heard of in the county for a good few years.
Rob