After a hectic 2017, I really want to get back to a daily blog, where you can check back on the parts of my show you miss, so here goes Day One...
RED SKY THIS MORNING - what a way to start the 2nd of January, this was view in Oakham this morning which I ran out to take at 8.05am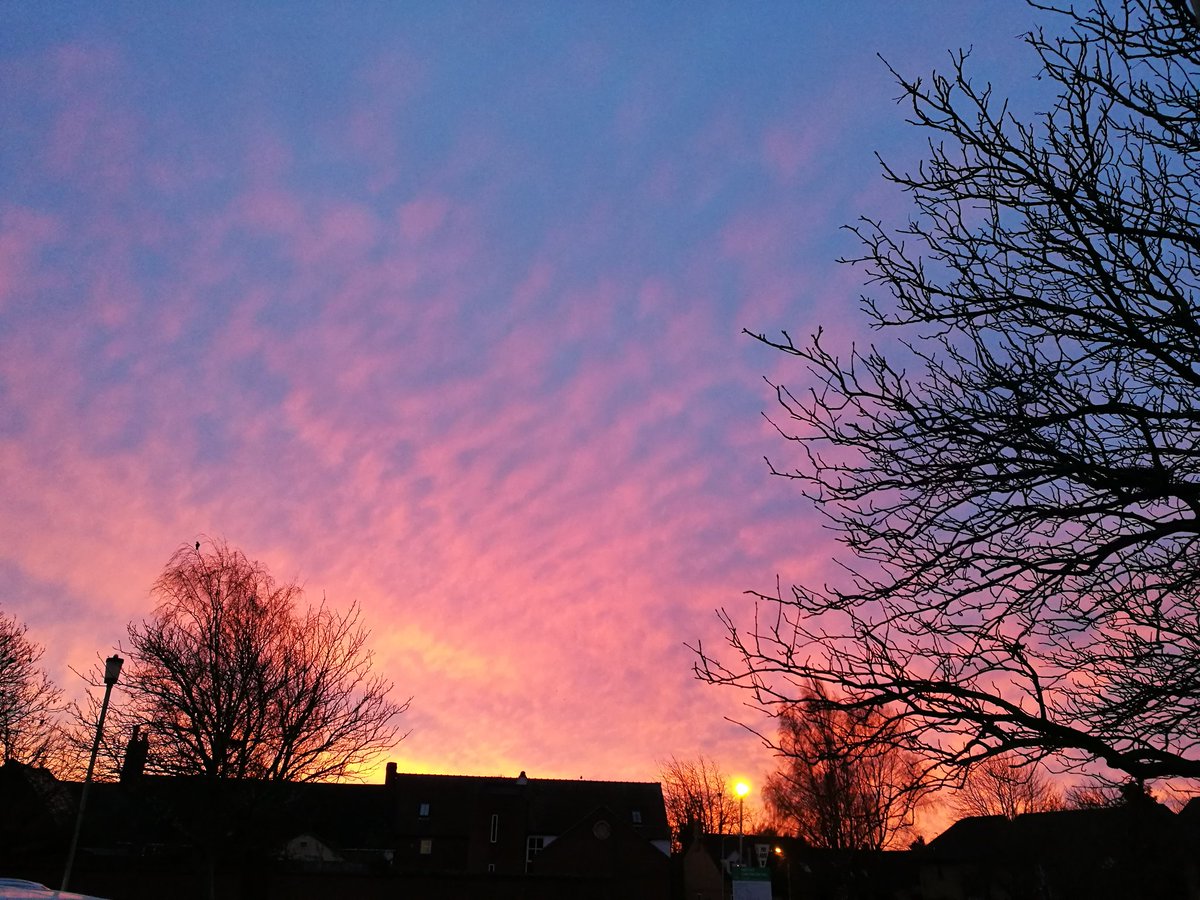 BACK TO WORK OR SCHOOL? Catmose and Harington were back today, more schools going back tomorrow and Thursday, with the private schools returning this Monday, which is when Schooltalk will return
THANK YOU VERY MUCH - according to our weekend survey, you're most likely to say thank you in person (just over 62% of those who voted), with the remainder split between a message on e-mail or text, and a thank you letter. We write letters at home, I'm not great at response time though!
SHOOTING STAR OR METEOR - there was one visible in Northern England, but also around the Stamford & Bourne area about 5pm on New Years Eve, there seemed so many fireworks this year too, almost continuously from early evening up until midnight. A supermarket I went to on in Stamford was selling them as 'New Year Fireworks' just to further push forward the point. But why 7 hours of bangs and fizzes - surely midnight was the time to celebrate? At least then pet owners can plan if their pets get spooked by them
NEW YEARS DAY FLY PAST - I went to the New Year's Day lunch at Greetham Valley after the show yesterday, and at about 2.45pm there was a wonderful sounding flypast happening overhead. Sadly I didn't get to see the aircraft, but I'm guessing Lancaster and Hurricane as the BBMF refer to them.
HAPPY BIRTHDAY HORSES - 1st January was the official birthday of Thoroughbreds and at stables at Cheltenham they gave them a cake of hay, apples and carrots. Have you ever seen the cake the Burghley Horse Trials winning horse gets? Chris Pitman used to make one for the horse, and one for the winning rider. Now he's retired from The George, who will take over?
CLEARING THE CHRISTMAS CLUTTER - did you take down your decorations over the break? I know people who put them away on Boxing Day. I'm such a traditionalist - I always leave them up until 12th night, and never considered anything else. Oakham's town lights were taken down last Thursday 28th, ready for the roadworks to start again today on the High Street. Shame they weren't able to wait until New Year.
MYSTERY VOICE - on £500 until we get a winner, play from 8am each day, and 5pm with Lydia. Only call when we tell you, not a minute before
Rob